Welcome to our pick of last week's news from Fethiye and around Turkey.
NEWS
Kayaköy's churches to be restored
Two historical churches in Kayaköy, a centuries-old settlement in Fethiye, in southwestern Turkey's Muğla, will be restored after being left abandoned for 97 years.
The Kayaköy ruins, often called the ghost village, host roughly 400 houses, two churches and several chapels.
It welcomes a large number of local and foreign tourists every year, taking them on a historical journey.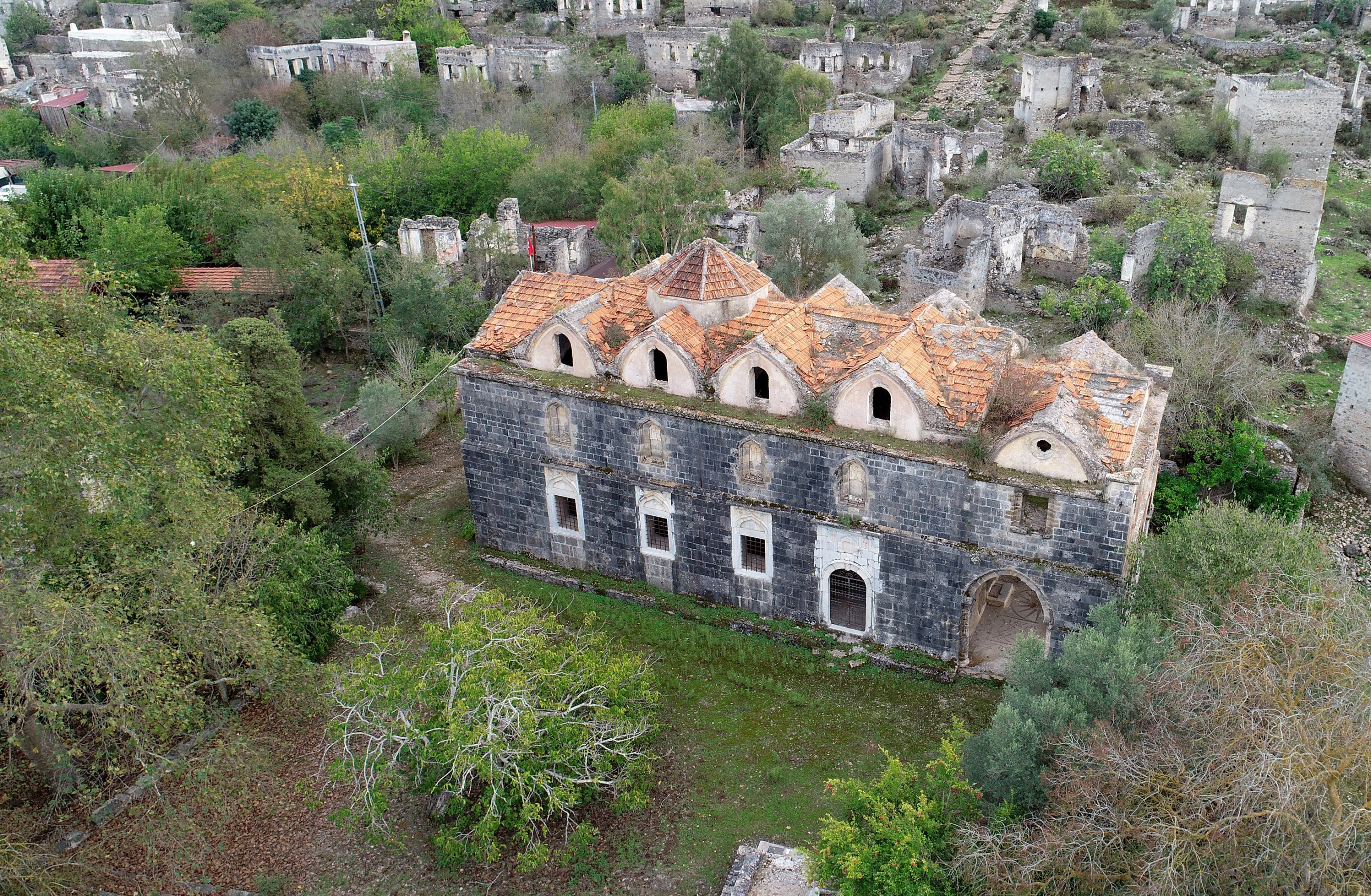 As part of a Muğla Culture and Tourism Directorate project, the Kayaköy churches will undergo restoration before reopening for tourists.
Speaking to Anadolu Agency (AA), Muğla Culture and Tourism Director Zekeriya Bingöl said Kayaköy attracts both local and foreign tourists with its settlement plan and historical structures. It is one of the most "sensitive areas that need to be protected."
He said the village is becoming more popular with tourists and in recent years it has been used as a backdrop in commercials and music videos. He added that the churches are the most important structures among the ruins, creating the most visual appeal.
Read more here: https://www.dailysabah.com/arts/ghost-village-kayakoys-churches-to-be-restored-in-southwestern-turkey/news?gallery_image=undefined#big
Turkey arrests 7, including contractors of unsafe buildings, in aftermath of Izmir quake
Turkish authorities arrested seven people Thursday evening, including contractors of unsafe buildings, in the aftermath of the devastating earthquake that struck the Aegean region and the province of Izmir on Friday.
Nine people had earlier been detained in connection with building collapses in the western province after last week's 6.6 magnitude earthquake that killed 114 people and wounded nearly 900.
More than a dozen buildings collapsed with many other damaged. Media outlets blamed the collapses on poor construction. Prosecutors said detention warrants were issued for 11 suspects and a manhunt was underway for two others.
Construction contractors are among those detained for the collapse of the buildings as well as engineers responsible for inspecting the buildings and ensuring they adhere to construction regulations.
While some of the buildings that collapsed in the disaster were reinforced against temblors, the majority were built in the 1990s before regulations requiring sturdier construction against earthquakes came into effect.
Source: Daily Sabah
New law aims to ban new buildings on and around fault lines in Turkey
The earthquake that shook the western province of Izmir on Oct. 30 has triggered a debate over buildings constructed on shaky ground and with poor cement quality. The government is now planning a landmark law that will enable detailed investigation into fault lines across the country and shut down areas near and on them to construction. The law, which is expected to be presented to the Parliament in the near future, will also cover the transformation of existing buildings in these areas to sturdier structures resistant to disasters.
Reports have shown that most of the buildings that collapsed in the Izmir earthquake were already under risk, and modifications made to the buildings further decreased their safety. Assessing similar laws in other countries, the government plans to bring comprehensive zoning changes for locations at the immediate risk of earthquakes.
As part of the efforts, each active fault line in the country will undergo analysis to see how many earthquakes they generate and at what intervals. Measures will be accelerated for areas in fault lines with more potential to create tremors. After the study, "zones" will be determined around each fault line and those locations would be closed to the construction of any type of building. Based on their risk level, locations near some fault lines will be allowed to have limited construction, except construction of buildings like schools, military bases or hospitals.
Existing, inhabited buildings will be assessed for urban transformation. Urban transformation is an ambitious project of the government which aims to replace old, unsafe buildings with new ones resistant to disasters.
Source: Daily Sabah
Turkey imposes $1.2M fine on Facebook, others
A Turkish authority has imposed a fine of 10 million Turkish liras ($1.18 million) on multiple social media platforms for not hiring local representatives.
Platforms including Twitter, Facebook, Instagram, YouTube, Periscope and TikTok which are accessed over 1 million times every day from Turkey were fined, according to the Information and Communication Technologies Authority (BTK).
These social media giants have local offices in many countries globally, but have long ignored the Turkish government's request to hire a local representative.
A new social media law came into effect as of Oct. 1 and gave a 30-day term to social platforms to appoint their local representatives in Turkey. The term ended on Monday.
According to the law, if these platforms will not appoint a representative in the next-30-day period, the country will impose an additional fine of up to 30 million Turkish liras (around $3.6 million).
Read more here: https://www.aa.com.tr/en/economy/turkey-imposes-12m-fine-on-facebook-others/2032040
SPORT
Thank you to Brian Lloyd for the Fethiyespor updates
Ziraat Cup
Fethiyespor lost their away match against Altınordu in the Ziraat Cup on Wednesday. The final score was 2-1.
Match Results
With no league matched played over the weekend, Fethiyespor remain at 2nd position on the league table.
The next league match is:
Sunday 15th November away against Ceyhanspor. Kick off is at 13:00.
Please note: the Turkish Football Federation have made the decision that, due to COVID-19 measures, all games in the first half of the season will be played without spectators.
For more information about Fethiyespor please visit:
Fethiyespor Yabancilar on Facebook
You can also follow Fethiyespor on Twitter and Instagram
Lokman Hekim Fethiye Belediyespor
Thank you to Yavuz Topateş for the Lokman Hekim Fethiye Belediyespor updates
Match results
Lokman Hekim Fethiye Belediyespor lost their home match against Anadolu Efes on Saturday. The final score was 84-90.
Please click on the link below for the match schedule.
Lokman Hekim Fethiye Belediye Spor 2020-2021 Schedule
You can follow the Team on their Facebook Page – Lokman Hekim Fethiye Belediyespor Basketbol
"The Store" opens in Fethiye
Fethiyespor and Lokman Hekim Fethiye Belediyespor merchandise are now on sale in The Store, which reopened this week.
Fans can purchase jerseys, t-shirts, hats, scarves, and berets from both clubs in the store which is located in Fethiye near to the Municipality building.
Turkey finalizes preparations for Formula 1 Grand Prix
Turkey has been counting down the days for next weekend's Formula One Grand Prix after a long absence as preparations are essentially complete for the top-flight motorsports event.
The Formula One DHL Turkish Grand Prix will be held at Intercity Istanbul Park on Sunday, Nov. 15.
The Mercedes team's British star Lewis Hamilton could win this season's championship title in Istanbul.
Of the 17 rounds on the circuit this year, the Turkish Grand Prix is the fourth to last, meaning there will be only three more to go after Sunday. The 2020 season will end in Abu Dhabi on Dec. 13.
Source: https://www.dailysabah.com/sports/motorsports/turkey-finalizes-preparations-for-formula-1-grand-prix
Turkish Lira (TL) exchange rates
Turkish President Recep Tayyip Erdogan removed the country's central bank governor Murat Uysal from his post on Saturday after the Turkish lira reached a record low.
The decision was made by presidential decree and announced in the country's Official Gazette, with no immediate reason given for the sacking. Uysal's replacement after just 16 months in the job was named as former finance minister Naci Agbal.
Uysal took on the role after a dispute between Erdogan and the previous governor, Murat Cetinkaya, over cutting interest rates.
Erdogan has long opposed high rates. Last Saturday, he said Turkey was fighting against a "devil's triangle of Turkey lira interest rates, exchange rates, and inflation."
Source: https://www.dw.com/en/turkey-fires-central-bank-chief-as-lira-slides-to-record-low/a-55527015
The British Pound bought 11.21 TL by the close of business on Friday. The week before it was selling for 10.80 TL.
The US Dollar bought 8.52 TL by the close of business on Friday. The week before it was selling for 8.34 TL.
The Euro bought 10.12 TL by the close of business on Friday. The week before it was selling for 9.74 TL.
Source: FxexchangeRate.com
Weather Forecast
Here's your weather forecast for the week ahead.
Source: Living Earth
Today's featured image: "Şehit Fethi Bey Parkı" by Lyn Ward
Follow Fethiye Times on social media for regular updates.
Join us at Fethiye Times Travel Club